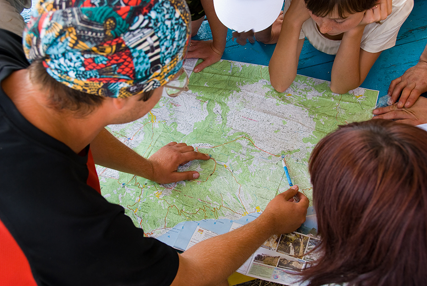 Collaboration for mission mobilization
Proverbs 15:22 says that, "plans fail for lack of counsel, but with many advisors they succeed."
Consider joining us as we seek God for wisdom, clarity, direction and specific actions to further His kingdom. We remain convinced that Jesus' words ring true: "Repent, for the kingdom of heaven is at hand!" Isa Dreams are kingdom activity. God is reaching into space and time in unprecedented ways and we are awestruck to be part of it. Our missionary friends have repeatedly told us that Isa Dreams are really about missions – it's true! With that in mind, we are looking for ways to promote a missions response to reach Isa Dreamers.
How do I do that? Glad you asked!
In our section called Wake others, we mentioned some of the ways we plan to communicate with each other and spread the word about Isa Dreams. We also plan to schedule planning conferences, promote corporate repentance through community-wide services, facilitate community cooperation and training to reach out to local Muslim populations, and establish training tracks that will provide progressive training to equip people to lead dreamers to the man of their dreams – the Lord Jesus Christ!
Newsletter
Sign up for our newsletter in the sidebar to learn more and receive periodic updates on conferences and new research.
When you sign up, you will also receive a White Paper full of detailed information about Isa Dreams.
Planning conferences
These conferences are designed to provide a forum for prayer, brainstorming and planning how to reach dreamers with the good news of salvation in Jesus Christ. Many missionaries believe that Isa Dreamers are the "men of peace" where they live. Manifold Hope desires to facilitate intentional outreach to dreamers – one acquaintance of ours calls this "dream harvesting." We love the term.
Signing up for our newsletter will keep you up to date on the development of conferences.
Corporate repentance services
Imagine churches joining in worship and repentance before God the Father. There is great potential for churches to draw closer together as they kneel before God in humble prayer. We believe that God is pleased when the body of Christ discerns itself, and asks for forgiveness of sins both past and present. First, we want God to be glorified in these services. Then we seek a great move of the Holy Spirit in the West as we see it elsewhere today. We desire that God will provide specific direction, softening of hearts toward missions and practical guidance for local Muslim outreach.
Local Muslim outreach
We are working to identify practical training that can easily be disseminated to local congregations who are interested in befriending local Muslims. As Muslims from different countries of origin often don't associate well, we are interested in individual congregations focusing on specific Muslim groups in coordination with other churches.
Contact us to learn more about local outreach opportunities.
Contact us