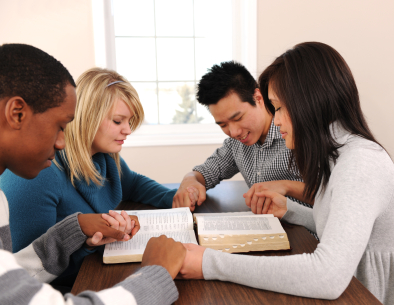 Biblical examples of corporate and personal repentance from Ezra and Daniel.
Ezra prayed and fasted in repentance for his people who had married foreign wives even though God had forbidden it.
Ezra 10:6 Ezra withdrew from before the house of God and went to the room of Jehohanan son of Eliashib. While he was there, he ate no food and drank no water, because he continued to mourn over the unfaithfulness of the exiles.  
He embraced their sins even though they were not his sins. He poured out his heart to God.
Ezra 9:6-7 "O my God, I am too ashamed and disgraced to lift up my face to you, my God, because our sins are higher than our heads and our guilt has reached to the heavens. 7 From the days of our forefathers until now, our guilt has been great. Because of our sins, we and our kings and our priests have been subjected to the sword and captivity, to pillage and humiliation at the hand of foreign kings, as it is today."
The people were impacted by Ezra's prayers of repentance and began to join him. Ezra 10:1 "While Ezra was praying and confessing, weeping and throwing himself down before the house of God, a large crowd of Israelites — men, women and children — gathered around him. They too wept bitterly."
Their repentance led to action: Ezra 10:3-4 "Rise up; this matter is in your hands. We will support you, so take courage and do it."  
Daniel expressed the same kind of repentance. He repented for his people. His was a definite "we" type of repentance.
Dan 9:4-6, 8-11 "O Lord, the great and awesome God, who keeps his covenant of love with all who love him and obey his commands, 5 we have sinned and done wrong. We have been wicked and have rebelled; we have turned away from your commands and laws. 6 We have not listened to your servants the prophets, who spoke in your name to our kings, our princes and our fathers, and to all the people of the land. 8 O Lord, we and our kings, our princes and our fathers are covered with shame because we have sinned against you. 9 The Lord our God is merciful and forgiving, even though we have rebelled against him; 10 we have not obeyed the Lord our God or kept the laws he gave us through his servants the prophets. 11 All Israel has transgressed your law and turned away, refusing to obey you."
Dan 9:17-18 "Now, our God, hear the prayers and petitions of your servant. For your sake, O Lord, look with favor on your desolate sanctuary. 18 Give ear, O God, and hear; open your eyes and see … "
Here Daniel blends personal and corporate repentance, confessing his own sins as well as his people's. Look at the promise of insight and understanding, as well as the vision represented in the Scripture following in Dan. 10.
Dan 9:20-23 "While I was speaking and praying, confessing my sin and the sin of my people Israel and making my request to the Lord my God for his holy hill — 21 while I was still in prayer, Gabriel, the man I had seen in the earlier vision, came to me in swift flight about the time of the evening sacrifice. 22 He instructed me and said to me, "Daniel, I have now come to give you insight and understanding."
Dan 10:5-9  5 "I looked up and there before me was a man dressed in linen, with a belt of the finest gold around his waist. 6 His body was like chrysolite, his face like lightning, his eyes like flaming torches, his arms and legs like the gleam of burnished bronze, and his voice like the sound of a multitude. 7 I, Daniel, was the only one who saw the vision; the men with me did not see it, but such terror overwhelmed them that they fled and hid themselves. 8 So I was left alone, gazing at this great vision; I had no strength left, my face turned deathly pale and I was helpless. 9 Then I heard him speaking, and as I listened to him, I fell into a deep sleep, my face to the ground."
Dan 10:19-21 "Do not be afraid, O man highly esteemed," he said. "Peace! Be strong now; be strong." When he spoke to me, I was strengthened and said, "Speak, my lord, since you have given me strength." 20 So he said, "Do you know why I have come to you? Soon I will return to fight against the prince of Persia, and when I go, the prince of Greece will come; 21 but first I will tell you what is written in the Book of Truth."